In West Essex, we use Noodletools as a tool to create parenthetical citations and a List of Works Cited.
Greek & Roman Heroes - Database Resources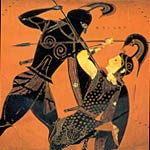 Theoi Greek Mythology

The Theoi Project is a site exploring Greek mythology and the gods in classical literature and art. The aim of the project is to provide a comprehensive, free reference guide to the gods (theoi), spirits (daimones), fabulous creatures (theres) and heroes of ancient Greek mythology and religion.

Greek Gods

This website includes excellent information on Greek mythology including Greek Heroes.